Joker World Wide Industries HQ is the name of the combined palaces of Overlords Darkseid and Spice Mcdonald.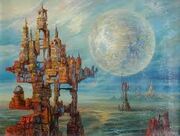 Just recently, the former Batman inc. program known as Roxy has been taken over by JWWI, and renamed S-12-13-X (Silian). The headquarters takes up all of the country of Harbor, UK (named after the famous bomb), and is covered with data files depicting the faces of Darkseid and Spice McDonald. This is the royal palace of Earth.
Silian

"I, S-12-13-X will destroy Batman inc...."- Silian
Title
Dark Computer
Corrupted Roxy
JWWI HQ
Important Information
Gender
N/A
Weapons
Billions
Status
Running, 0 years since corruption
Eye Color
Red
Hair Color
Clear
Height
100 ft., can be edited by Darkseid or Spice
Other
Group
JWWI
Missions
N/A
Occupant Rooms
Weapon Room
Ad blocker interference detected!
Wikia is a free-to-use site that makes money from advertising. We have a modified experience for viewers using ad blockers

Wikia is not accessible if you've made further modifications. Remove the custom ad blocker rule(s) and the page will load as expected.